Actresses
Hadiza Aliya Gabon Net Worth, Age, and  Biography
Originally posted 2021-08-23 20:23:23.
Hadiza Aliya Gabon Biography
Hadiza Aliya also known Hadiza Gabon was Born on the 1st Of June, 1989.. She is a Professional Actress and a filmmaker in the Kannywood industry and English Movies. She's the founder of the Hadiza Foundation. Hadiza is an ambassador for MTN Nigeria and Indomie Noodles. She was named best actress at 2013 Best of Nollywood Awards, and she has also won the 2ndd Kannywood/MTN Awards in 2014. She's currently the founder of the HAG Foundation [Hadiza Gabon Foundation].
---
Hadiza Aliya Profile Summary
Full Name: Hadiza Aliya
Date of Birth: June 1, 1989
Nationality: Nigerian
Occupation: Actress, Filmmaker
Year Active: 2009-Present
Religion: Muslim
Website: http://hadizaaliyu.com/
---
Early Life and Educational Background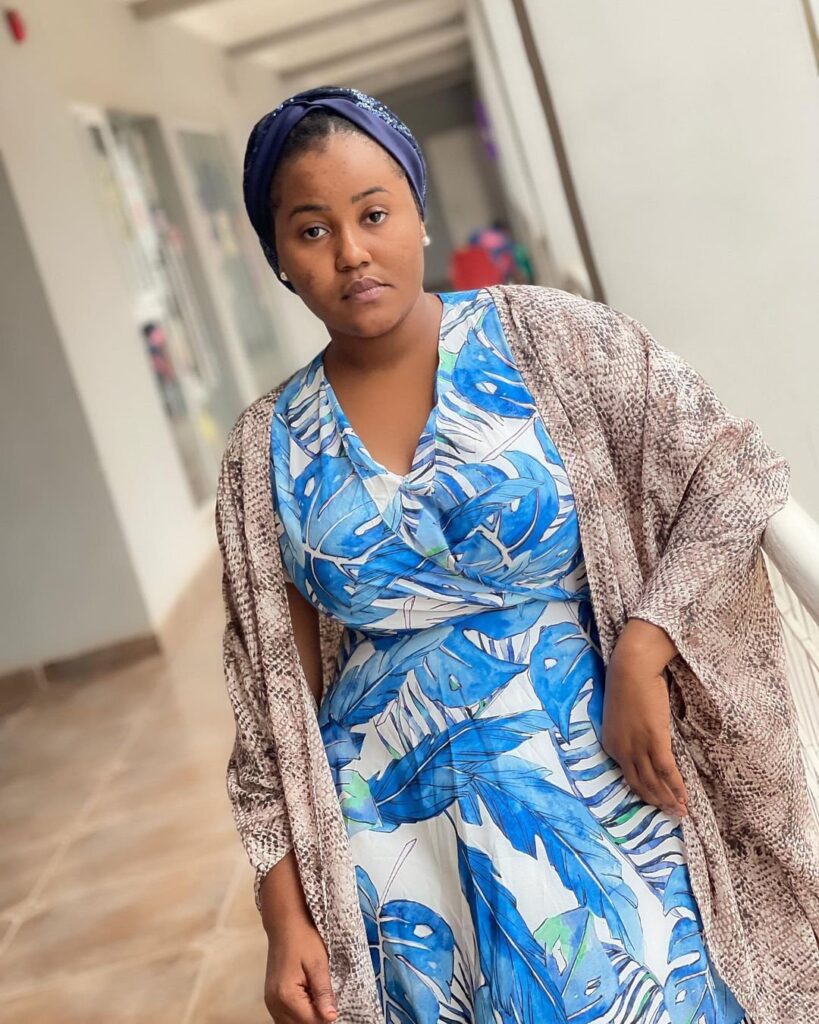 Hadiza Aliye was born In Libreville, the Republic of Gabon, a French Speaking country. Hadiza Aliyu was born into the family of Mr/Mrs. Aliyu. Her dad is an Elder statesman while her mom is of Fulani Ancestry, Adamawa State, Nigeria.
The professional actress completed her primary and secondary Education In Gabon. After she completed her O'level examination, she then sat of her A-Level exams with the Intention of becoming a lawyer. She started her carrier as an undergraduate, after some time, she dropped out of school dues to some predicament that trailed her studies.
Hadiza's education was halted at the time, giving her the opportunity to enroll in a diploma program in French Language and later become a French-language teacher in a private school.
Acting Career
As soon as Hadiza Aliyu arrived at Adamawa State, She joined Kannywood.
Due to the great Enthusiasm, she has for acting, she moved to Kaduna from Adamawa to Join the film industry with her cousin. Hadiza Aliyu Had the opportunity of meeting Ali Nuhu and asked for his help in launching her career as an actress.
In 2017, Hadiza Aliyu decided to join Nollywood, following in the footsteps of Ali Nuhu, Yakubu Muhammed, Yakubu Muhammed, Sani Musa Danja, and Rahama Sadau. She appeared in her first Nollywood film, Lagos Real Fake Life, alongside Mark Angel, Mike Ezuruonye, and Emmanuella.
ALSO, READ Ummi Rahab Biography, Age, Songs Acting and Net worth
Philanthropy
Hadiza Aliyu Gabon is the founder of the Hadiza Gabon Foundation (HGA), which was founded in 2016. HAG is a foundation that is dedicated to improving the lives of ordinary people through supporting them in the healthcare, educational, and food security sectors. She is one of the first actresses in Kannywood history to offer such humanitarian assistance.
Hadiza Aliyu visited an internally displaced person camp in Kano State in March 2016, where she donated food, textile materials, and other tangible items needed by the camp's inhabitants who had been displaced by northern Nigerian violence.
Hadiza Aliyu Gabon Age
She's 33 years old, as of 2022.
Hadiza Gabon Net Worth
Hadiza Aliyu Gabon is one of Kannywood's wealthiest and most influential female actors. Aside from acting, she is also a business owner who sells clothes and footwear on her IG account.
She is also a brand ambassador for NASCON Allied Plc, a subsidiary of Dangote Group. Hadiza Aliyu Gabon has an estimated net worth of $400,000.
Brand Ambassador
Hadiza Aliyu was named Dangote Classic Seasoning's brand ambassador in December 2018 by NASCON Allied Plc, a Dangote Group subsidiary, during the seasoning's official launch in Kano.
Hadiza Ganon Social Media Handles
You can connect with Hadiza Aliyu Gabon on:
Facebook: https://www.facebook.com/AdizatouGabon
Instagram: https://instagram.com/adizatou
Twitter @adizatougabon
Hadiza Aliya Phone number /Booking
Currently, there is no phone number of Aliya, for any deals or booking or whatever business you might want to have with her you can message her using this email commercials.hadizagabon@gmail.com
Honors and awards
Hadiza Aliyu has received numerous awards and honors, including 2013 Best of Nollywood Awards and the 2014 Kannywood/MTN Awards. Hadiza Aliyu was honored in 2013 by former Kano State Governor Dr. Rabiu Musa Kwankwaso for her distinguished career as an actress. She was also named Best Actress by the African Hollywood Awards.
Hadiza Gabon Movies
Hadiza Aliyu has been featured than 40 movies since she began her career. Here, we'll be listing some of the movies she acted.
Farar Saka
Daina Kuka
Mukaddari
Ziyadat
Fataken Dare
Kolo
Artabu
Sakayya
Wasila
Umarnin Uwa
Badi Ba Rai
'Yar Maye
Akirizzaman
Aisha Humaira
Umarnin Uwa
Dare Daya
Da Kai Zan Gana
Wata Tafi Wata
Haske
Daga Ni Sai Ke
Ban Sani Ba
Ali Yaga Ali
Mai Dalilin Aure
Basaja
Ba'asi
Uba Da 'Da
Indon Kauye
Jarumta
Ciki Da Raino
Gida da waje
Gidan Badamasi
Hawwa Kulu
Dan Birnin
Wakil
Before you exit this page, you can also check our next article on Serwaa Amihere biography, Wedding, tattoo, and Net Worth