Biography
DJ Cuppy Net Worth 2022, Age, Cars,Biography
Originally posted 2021-09-22 20:25:04.
DJ Cuppy Biography and Profile
Florence Ifeoluwa Otedola popularly known as DJ Cuppy or simply Cuppy was born on November 11, 1992. f She's a well-known Disc jockey (DJ) and producer. She was born and raised in Lagos and moved to London when she was 13 years old. She's the daughter of a rich business tycoon, Femi Otedola.
DJ C Cuppy Profile Information
Birth Name: Florence Ifeoluwa Otedola
Date of Birth: November 11, 1992 (31 years old as of 2023).
Cuppy's State of Origin: Oyo State
Instruments: Mixer.
Years Active: 2013-present.
Occupation: DJ record producer remixer.
Record Labels: Red Velvet Music Group.
Website: https://djcuppy.com
Cuppy's Family
Cuppy's dad's name is Femi Otedola, who also shares the same birth month with her daughter. Femi Otedola is a Nigerian businessman and philanthropist who served as the chairman of Forte Oil PLC, a fuel importer. Zenon Petroleum and Gas Ltd were founded by Otedola, who also owns several other businesses in shipping, real estate, and finance. Apart from cuppy, Femi has two daughters namely, Elizabeth Temi Otedola (fashion blogger) and Tolani. He has only one Son named Fewa.
Femi got married to his wife, Nana Otetola after the birth of his first daughter Tolani.
Nana Otedola worked for Fineshade Energy Limited for 13 years and is now a director of the company.
Cuppy is also the granddaughter of the former Lagos state governor, Sir Michael Otedola.
DJ Cuppy's Educational Background
DJ Cuppy was previously staying in Llupeju for 6 years before she moved to Ikeja. When she got to Ikeja she attended Grange located at Lagos Mainland. She then moved to London for her GCSEs and A-Levels. In July 2014, she graduated from King's College London with a degree in business and economics. In 2015, she also received a master's degree in "music business" from New York University.
ALSO, READ Nana Otedola Net Worth, Biography, And Age
DJ Cuppy's Music Career
Her career flamed up in 2014 when she was the resident DJ at the MTV Africa Music Award in Durban. She went on to perform at the Tatler and Christie's Art Balls in London, as well as the Financial Times Luxury Summit in Mexico City.
She released "House of Cuppy" as her first compilation mix in Lagos and London in July 2014, before releasing it in New York, USA on September 2, 2014. She worked with House of Cuppy to create EDM-style remixes of songs by top Afropop artists.
Cuppy also founded Red Velvet Music Group, a music management and content production company based in London, that same year.
Cuppy appeared on the cover of the Guardian Life magazine in January 2015. The cover hailed a new generation of African women.  Cuppy was named the official DJ for the 2015 Oil Barons Charity in Dubai in March 2015, making him the first African act to perform at the event.  She was featured in Forbes Woman Africa's April/May 2015 issue.
Cuppy released "House of Cuppy"  in June 2015.
Cuppy embarked on her first DJ tour to eight African countries in August 2015, dubbed "Cuppy Takes Africa." She traveled through Nigeria, Senegal, Ghana, Kenya, Tanzania, Rwanda, Uganda, and South Africa. The "Cuppy Takes Africa" tour featured live performances, major artist collaborations, and charitable engagements sponsored by GTB Bank and the Dangote Foundation.   Later that year, she worked as an intern at Jay-Roc Z's Nation.
The "Cuppy Takes Africa" tour aired as an 8-episode documentary series on Fox Life Africa in October 2016. Cuppy was the resident DJ for MTV2's Uncommon Sense with Charlamagne Tha God in 2016.
She produced two songs for Young Paris's "Afrobeats" EP, "Vibe" and "The Way I Am," which was released on March 24, 2017.
Her first official single, "Green Light," was released on October 13, 2017. The song features guest vocals from Tecno, A Nigerian singer, and Produce.
Her second official single, "Vybe," was released on March 30, 2018. Sarkodie, a Ghanaian rapper, contributes vocals to the song.
Currency, her third official single featuring L.A.X., was released on August 24, 2018.
Werk, her fourth single with Skuki, was released on October 5, 2018.
On April 19, 2019, she released Abena, her fifth single, in collaboration with Kwesi Arthur.
Gelato, her sixth single featuring Zlatan, was released on August 16, 2019.
Cuppy was named to Forbes Magazine's 30 Under 30 class in 2020.
She started hosting 'Africa Now Radio' on Apple Music Beats 1 on May 28, 2020.
Jollof On The Jet, her seventh single featuring Rema & Rayvanny, was released on July 16, 2020.
Her debut album, Original Copy, was released on August 24, 2020.
She partnered with Apple Music in February 2021 to launch Africa's first radio show.
DJ Cuppy Net Worth (Forbes)
DJ Cuppy's net worth according to Forbes, is estimated to be 3 million dollars, which alone makes her the richest female DJ in Nigeria.
How does Cuppy make her money?
Her whole wealth comes from her DJing Career, music albums, and Numerous Endorsement Deals.
DJ Cuppy's Cars
DJ Cuppy was born into prosperity, so her cars are expected to be extravagant. DJ Cuppy owns a 2016 Mercedes Benz AMG G55 SUV worth about 42 million Naira, so we aren't disappointed. She also owns a red Ferrari Portofino that worth over 75 million Naira, as well as a white Range Rover Sports 2017 model worth 24 million Naira.
Pictures of DJ Cuppy's cars and her house
Dj Cuppy 2019 Ferrari Portofino – N77millon
Cuppy shared it on Instagram on March 25th, 2019 to notify her followers that she had purchased a Ferrari Portofino.
She wrote the caption:
"Level up! 🏎💨 Shoutout to @Mr_Ferrari_London #FerrariPortofino," the car features a

MSRP: From $215,000
Horsepower: 591 hp
MPG: 16 City / 22 Highway
Engine: 3.9 L V8
Curb weight: 3,669 lbs
Fuel tank capacity: 21.1 gal
Dj Cuppy Mercedes-Benz G550 G-Class – N54million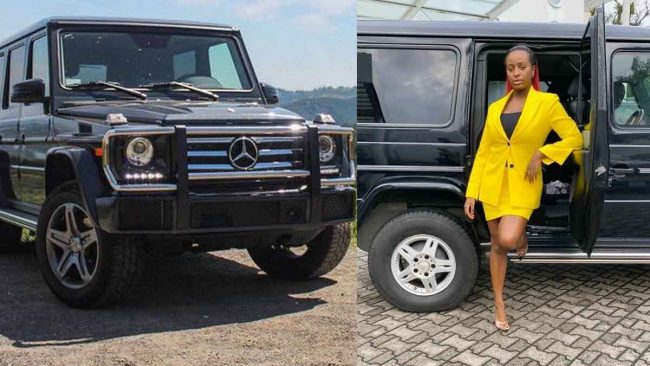 Dj Cuppy Rolls-Royce Phantom – N162million
Dj Cuppy Mercedes Benz SLR McLaren – N250million
Dj Cuppy 2018 Range Rover Sport – N27million
Dj Cuppy Mercedes G Wagon
DJ Cuppy Ferrari Portofino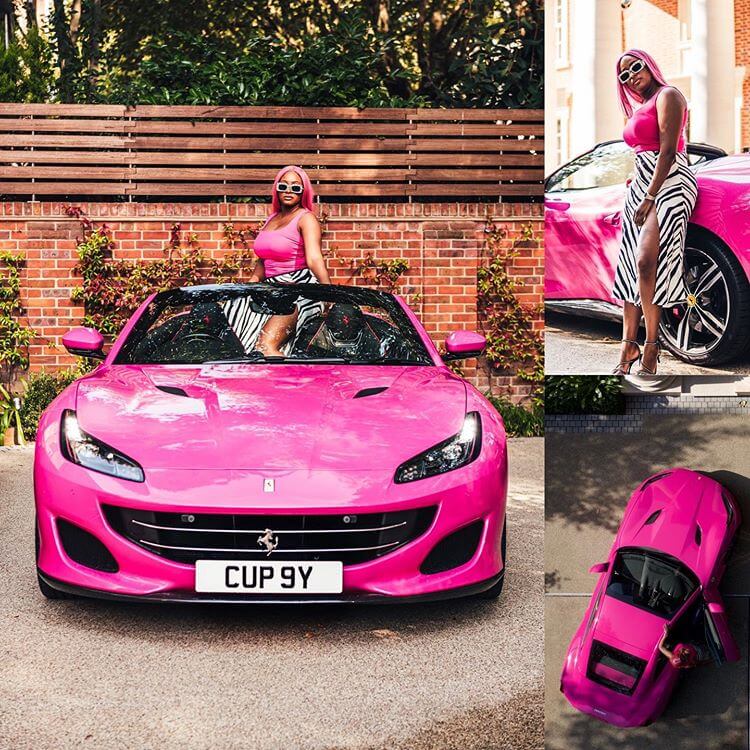 Dj Cuppy house
List of Popular Shows that  Cuppy was Attended
2015 Oil Barron Charity in Dubai.
The Financial Times Luxury Summit in Mexico where the 15 emerging economies, Nigerian being one of them, were discussed.
MTV Africa Award- MAMA, She's the Award's resident DJ.
Tattlers and Christie's Art Ball in London.
SXSW festival in Texas.
Official DJ @ President Muhammad Buhari's inauguration in 2015
Uncommon Sense with Charlamagne on MTV 2.
DJ Cuppy's Ambassadorship and Endorsement Deals.
Nigeria's Minister of Tourism, Culture, and National Orientation (Edem Duke) appointed  Cuppy as the tourism ambassador for the country's "Fascinating Nigeria" campaign in April 2014. Cuppy, along with three other DJ ambassadors in Nigeria, became one of Pepsi's DJ ambassadors.
Cuppy was labeled as a Pepsi Official DJ Ambassador on March 20, 2018.
Before the 2018 World Cup, she was featured in Pepsi's "#NaijaAllTheWay" all-star commercial.
Cuppy was named a Global Citizen Education Ambassador on June 5, 2018.
Cuppy was named an Ambassador for Save The Children UK on November 28, 2018.
How much is DJ Cuppy worth? (DJ CUPPU NET WORTH)
Philanthropy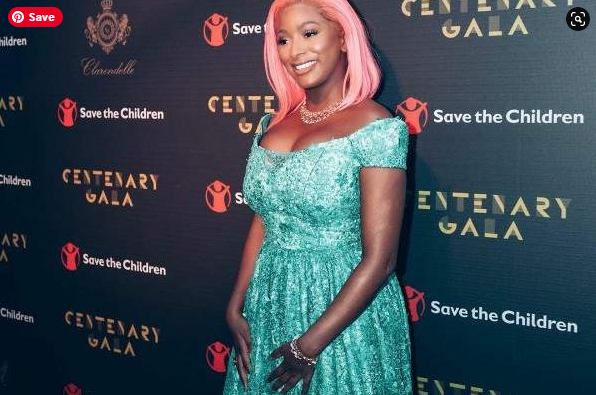 Cuppy established the Cuppy Foundation in July 2018.  The foundation hosted the Gold Gala in November 2019, raising over N5 billion for the Save the Children initiative.  Dangote and her father also donated to the cause.
Artistry
Cuppy described her sound as "Neo-Afrobeats," which is a fusion of Electro house and Afrobeats, in an interview with Tush Magazine.
Life Lessons from DJ Cuppy's Story
Being born into a wealthy family does not make you a mummy's boy or a daddy's girl. DJ Cuppy works extremely hard to support herself and is not reliant on her father's wealth.
There is no such thing as being too young to pursue one's dreams. When you discover your passion, regardless of your age, look for ways to harness it, train yourself on it, and simply improve.
Frequently Asked Questions about DJ Cuppy (F.A.Q)
1. How old is DJ Cuppy now?
The musician was born on 11 November 1992. As of 2021, she is 29 years old.
2. What is DJ Cuppy's real name?
DJ Cuppy's real name is Florence Ifeoluwa Otedola
3. What causes Zlatan and DJ Cuppy to fight?
Afeare Isreal, one of Davido's aides, uncovered why Zlatan Ibile, a popular singer, blocked DJ Cuppy on social media. He claimed that Zlatan blocked Femi Otedola's daughter because she failed to reimburse him for the success of her hit song Gelato in 2019. 29th of January, 2021
4. Does DJ Cuppy have a private jet?
As you can see from some of her social media posts, this young lady prefers to travel in luxury cars and by air, just like any other celebrity. DJ Cuppy is also referred to as "Daddy's little girl." She travels in her father's private jet.
4. Where is DJ Cuppy from?
she was born and raised in Lagos State, Nigeria
5. Is DJ Cuppy older than Temi?
Temi Otedola, the daughter of Femi Otedola, a billionaire businessman, shared a throwback photo of herself and her older sister, DJ Cuppy, who turns 28 on November 11th.
"Happy Birthday @cuppymusic !!!!!  The big sister I love, laugh with, and RESPECT. You are a superwoman to me! Proud of all of you are and everything you are yet to be. I know you'll always have my back. Love you always and forever." Temi wrote
DJ Cuppy's Nominations and Awards
In 2014, she was nominated for an ELOY Award for Female DJ.
DJ Cuppy was named Best Female DJ at the 2015 NEA Awards.
In 2016, the Beatz Awards named her the best female DJ of the year.
At the 2017 Beatz Awards, DJ Cuppy was named Best Female DJ of the Year.
In 2018, the Beatz Awards named her the best female DJ of the year.
Discography
DJ cuppy's Single
These are the title of the single cuppy sang together with the artists she featured.
Green light featuring Teckno – 2017
Vybe featuring Sarkodie – 2018
Currency featuring LA X – 2018
Werk featuring Skuki – 2018
Abena featuring Kwesi Arthur, Shaydee, Ceeza Milli – 2019
Gelato featuring Zlatan Ibile – 2019
Jollof on the Jet featuring Rema and Rayvanny – 2020
Karma featuring Stonebwoy – 2020
Fkn Around featuring Megan Thee Stallion – 2020
Litty lit featuring Teni – 2020