Biography
Davido Net Worth, Age, Career, and Biography
Originally posted 2021-08-10 18:20:04.
Davido's Biography
David Adedeji Adeleke is popularly known as Davido. He was born on the 21st of November 1992. Davido is a talented Nigerian-American singer, record producer, and writer. In Nigeria, he's the most followed celebrity on Instagram. He is among the Top influential artists in Africa.
---
Davido Profile Summary
Date of birth: November 21, 1992
Birthplace: Atlanta, GA
Age: 31 years old (as of 2023)
Zodiac sign: Scorpio
Nationality: Nigerian
Height: 5'6″ (168 cm)
Famous as: Singer-Songwriter
Father: Adedeji Adeleke
Mother: Veronica Adeleke
Siblings: Adewale Adeleke, Sharon Adeleke
---
Music career
The peak of Davido's career flamed up when he sang "Dami Duro" in 2012 from his debut studio album omo baba olowo. He gloriously won the next-rated award at the headlines in 2012. He had a string of hit singles between 2013 and 2015 before signing a record deal with Sony Music in January 2016. After then, he founded the record label (DMW) which means Davido Music worldwide, after the creation of the record label, he signed Mayokun, Dremo, and Peruzzi.
Davido signed a record deal with Sony's RCA Records in July 2016. He released the 5-track EP Son of Mercy in October 2016, which featured the singles "Gbagbe Oshi," "How Long," and "Coolest Kid in Africa."
Davido renegotiated his contract with Sony in April 2017 due to creative control issues, and he released five singles later that year, which include "Fall" and "If."
"Fall" — "money fall on you, banana fall on you, cause I'm in love with you", automatically became the longest-charting pop song in Nigerian Billboard history while "IF"- "if I tell you say I love you, my money, my body na your own ooh"' generated a large worldwide social media activity.
In November 2019, Davido unveiled his second studio album, A Good Time, which was followed by singles such as "Blow My Mind." In 2019, New African magazine named Davido one of the Top 100 most influential Africans. On the 13th of  November, 2020, he released his third studio album, "A Better Time."
Early Life and History
David Adedeji Adeleke was born in Atlanta, Georgia on the 12th of November 1992. Davido's father's name is Adedeji Adeleke,  a business tycoon, and his mother Vero Adeleke, who was a University Lecturer. Davido is the second born of his father and the youngest of five siblings. He went to the British International School in Lagos, Nigeria, before returning to the United States to study business administration at Oakwood University in Alabama at the age of 16.
When he was at Oakwood, Davido bought musical equipment and started making beats. He worked with some of his cousins, named B-Red and Sina Rambo, to form the music group KB International.
Davido dropped out of Oakwood University to focus solely on music and relocated to London to perfect his vocals. Davido paused his music career after returning to Nigeria in 2011 and agreed to enroll at Babcock University to honor his father, only after his father paid the university to start a music department for an inaugural class of one student, where he graduated from Babcock in July 2015 with a degree in music.
CHECK ALSO, Latest Naija Music 
Net Worth of Davido
In 2019, Davido's net worth was estimated to be $16 million in 2019, but in 2021, he has an alleged net worth of $25 million.
As the year goes by, Davido however, continued to release hit songs on multiple platforms, allowing him to grow massively in the entertainment industry.
Apart from his coming from a wealthy background, Davido is a hustler who wants to make his own money,and have a good name rather than depending on his father's wealth. A lot of people have this misconception, saying stuff like "Davido wouldn't have gone far if not for his father's wealth". Davido on the other hand is a complete package, and all through his career, he has had lots of endorsement deals. Forbes listed Davido as one of the African artists who produces and releases songs that ttopdifferent charts.
Properties and Cars owned by Davido;  Apart from endorsement deals Davido has, he also owns other properties. He owns a mansion in Lekki, Lagos State, Nigeria, which is worth N140 million. Also, he owns a house in Atlanta, in the United States.
When talking about cars, he has a fleet of cars worth millions of naira. They include a Bentley Bentayga, Porsche Carrera, Toyota Land Cruiser, Chevrolet Camaro GS, a range Rover Sports, and many more.
When it comes to cars, Davido is said to have a fleet of cars including a Porsche Carrera, a Bentley Bentayga, a Range Rover Sport, a Toyota Land Cruiser, and a Chevrolet Camaro GS, and some others.
Family and Relationship life of Davido
The Adeleke Family
Davido's Dad and Mom
The popular musician Davido, was born into a rich family. His father's name is Adedeji Adeleke, he's a very wealthy businessman. Deji Adeleke was born on the 6th of March, 1957. When Davido was very young, his family stayed in Enugu State. His dad was a chief and he was responsible for the development of the artificial island in Lagos state commonly called Banana Island.
He was recognized for vowing to make Nigeria proud by building this island, devising a strategy for its growth, and adhering to it until Banana Island began to draw investors from all over the globe, ultimately becoming one of the country's most costly resorts.
He was married to Veronica who gave birth to  Davido and Sharon.
Also, his elder brother, Isiaka Adeleke, was the former Governor of Osun state. Isiaka Adeleke passed away in April 2017. So, the entire lineage has attained a level of success in various fields. Deji Adeleke is a co-founder of Adeleke University located at EDE, Osun State.
He is the chief executive officer of Pacific Holdings Ltd company, a company that deals with financing and investments in many areas of the Nigerian economy. Steel manufacturing, energy, shipping, and warehousing are all covered. Apart from that, Deji Adeleke is a real estate and banking professional.
As for the late mother of Davido, Veronica  Adeleke, was a former lecturer at Babcok University, Osun state, Nigeria. She died at the age of 39 in 2013.
Davido's Relationship Life
Davido is blessed with three children. He's currently engaged with chioma, the mother of his third child.
Before Davido became a dad, he has been dating tons of ladies. He was dating a model named Sira Kante, a beautiful Guinean model, and a fashion designer.
Their relationship was one of the most talked-about on social media platforms..
Davido's First Child: who is her mother?
Sophia Momodu was one of Davido's most famous gf's among others. Sophia is a fashion freak and a niece to Dele Momodu, the CEO of Ovation company.
When she was pregnant, a lot of arguments came up and the best thing she had to do was to take a DNA TEST. After then, it proved that Davido was the father of the child. So, Davido's first child was named Aurora Imade Adeleke, she was born on the 14th of May, 2015. Her middle name was gotten from Davido's late mother Veronica Imade, who hails from Edo State and passed away in 2003.
After some months, Davido allegedly attempted to take his daughter from the country several times without Sophia's permission. So, this led to a court case between Davido and Sophia. It turned out to be that the lawyer was on the side of Sophia and her Uncle. During this fight, Davido and Sophia often exchanged harsh words on social media.
After a while, everything normalized between Davido and Sophia. Davido later apologized for his ill treatments, towards Sophia and her uncle. Both partners aren't coming back again, but what matters is that everyone is in good terms with each other. Right now, Davido often visits his little daughter and sometimes, posts her pictures on social media.
Imade attends one of the best foreign schools in Lagos state.
Davido's second daughter: who is her mother?
The news about Davido having a second child, came as a shock to everybody, most especially his fans. As at 2016, he wasn't dating anyone. No one really knew that he was having an affair. The news came as an explode!!! The media found out that her name was Amanda, residing in Atlanta, USA.
Anyways, Davido named her Hailey Veronica Adeleke. He gave her a middle name after His late mother.
Davido and Chioma's Love Story
How did Davido and chioma Meet?
Apart from Davido being an award-winning musician, he's also a real charmer to millions of girls out there. Before Davido met Chioma, he dated a lot of beautiful ladies, his lovers were; Funmi Aboderin, Stacey Brianar Brown, Nish Kards, Siraa Kante, and his baby mamas Sophie Momodu and Amanda who gave birth to his beautiful daughters Aurora Imade and Hailey.
According to speculations, the charming couple met many years ago, while Davido was an undergraduate at Babcock University. Chioma Avril Rowland known as Chioma, is a student at the institution as well. Chioma was a 300-level Economics Student at the Babcock University when everybody started noticing their movement.
He made sure that everyone knew about Chioma and how much he admired her right away. He literally expressed his love to the entire world, and it instantly set her apart from the rest of his relationships.
The media and top celebrity bloggers became suspicious at first, because everyone was surprised at how swiftly the superstar's relationship with a regular girl progressed so quickly. Some people began to believe she was just a gold digger, and her peers began spreading rumors about her, alleging she dated a lot of guys at the institution.
She's not a lady that posts a lot of details about her life  on social media. She's also known for being a professional chef,  so she's more interested in posting her cooking samples.
Davido started to shower her with expensive gifts to show his affection towards her. He took her to Dubai and Paris for shopping. In 2018, Davido surprised Chioma with an expensive Porsche car (worth N45 Million).
According to the Insiders, Chioma wanted to skip a year at school just to be with him often. She was seen in London supporting and encouraging  Davido at the backstage when he was performing. He then tagged the photos he took with her "Best Friend," which many thought was a really wonderful move on his part.
The two lovers were severally spotted at the club, they where making a romantic eye contact to each other and could not let go. Davido did a lot of publicity that made Chioma stands out among other girlfriends. He also introduced her to his family when they went to a family event.
When it was Chioma's birthday, On the 1st of May 2018, Davido rented a whole nightclub solely to throw her a party. In that party, Davido admitted that he will always love Chioma.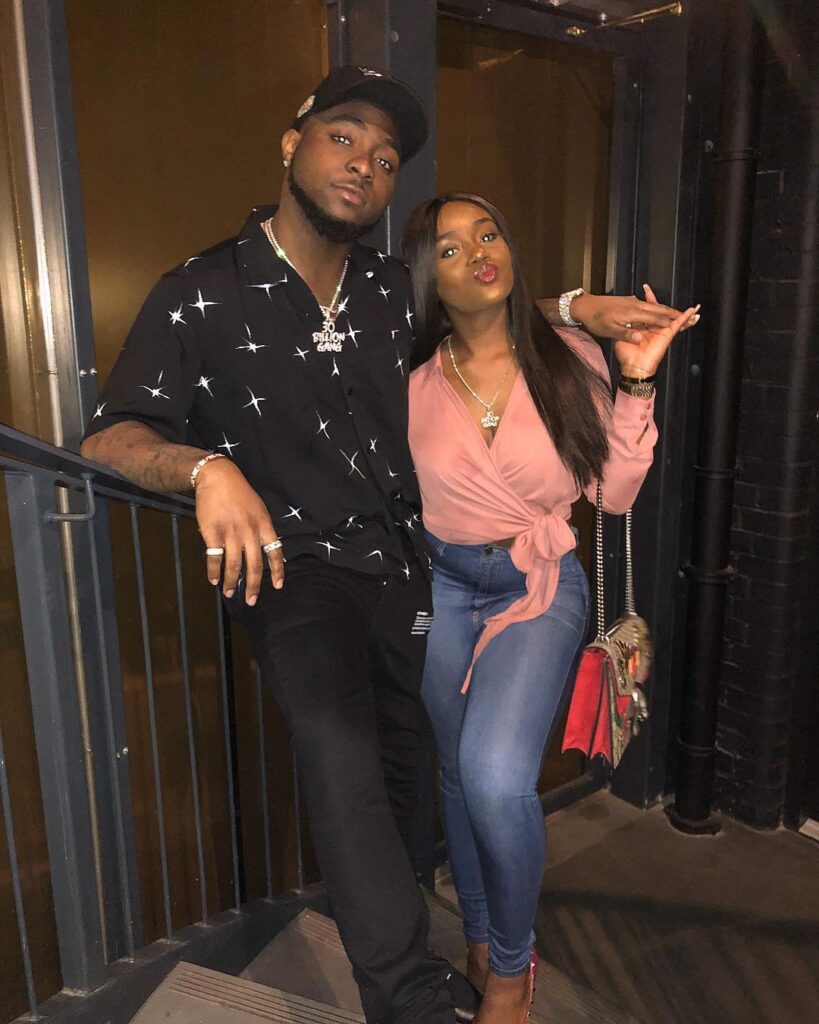 Another significant observation is that Chioma is said to have influenced his new song "Assurance." Her name appears in one of the lyrics, and she also appears in the music video for this song. When Davido was Interviewed, he said he has no problem admitting that he is in love, and some people have irrational phobias of publicly expressing their feelings.  There was a time, he called Chioma his wife on social media and indicated he wants to have a male child with her.
When they started dating, she quickly became popular. She got an endorsement deal worth N60 million from a Big Company. Davido said, out of all the women he's met, she is the only one who would never ask for anything.
He also advised the Nigerian ladies not to treat their boyfriends as living purses if they really want to enjoy their relationship.
However, Davido brought to light in January 2018 that he was in a relationship when he took the young lady, Chioma, to a private family event in Ede, Osun state.
They were first seen together at the musician's family's private parties. They've been meeting for five years, according to rumors. Before his two baby moms, Davido met Chioma.
On the 12th of September 2019, Davido proposed to chioma. The proposal took place in a restaurant in London among close friends.
Also, Davido announced on Twitter that Chioma had given birth to a son. He gave him the name David Adedeji Ifeanyi Adeleke Jnr. The news of Chioma's baby sparked up social media frenzy.
How does Davido make his money?
Music itself is money, and if you're very good with music. You'll have the opportunity to make money you never imagined of making. Davido literally made his money from Music. So without his father, he could still survive.  Here, we'll be listing some ways davido earns as Musician.'
Davido has a Monetized YouTube channel that has had over 800 million views over time. YouTube pays between 3-10 dollars per thousand view. if you're calculating the money he must have earn for 400million views, that should be around $2m, he has earned from YouTube. With just the analysis from YouTube, you'll know he's a rich kid.
When Davido has a performance abroad, especially in developed countries, he charges between $100k – $200k, and that's a huge amount of money, while for local shows in Nigeria, he charges between 10-40 million naira.
If peradventure he had 25 shows to attend in Nigeria and he charges all of them N20m, that's about N500m which is half a billion gotten from his show performance in a year.
DMW, Davido's record label, was founded in 2016. He started it soon after signing with Sony Music, and Mayorkun was his first major signing. Davido's DMW becomes yet another source of wealth for Davido, and it helps to raise more African music legends.
People fail to understand you can't be on top forever," Davido said this in His statement whiling talking about DMW, "having these artists helps me stay afloat and be current with new stuff."
Album sales and online revenue generation: without any doubt, Davido also makes huge cash from selling his album and singles. Davido revealed in 2018 that his songs, "FALL" and "IF" has made so much money. When Davido singed into the sony's RCA Record label in 2016, he said that "IF'
In 2018, Davido revealed that  both of his songs, "If" and "Fall' had made massive money for him. Davido when signed into Sony's RCA Records in the year 2016, he stated that his single "IF" sold over 2 million copies as a single from his album, and his other single "FALL", sold over 10 million copies worldwide.
 Davido's Tour
A Good Time North America Tour (2019-2020): In 2019 Davido announced that he'll be hitting major cities accord the shores of the United States and Canada.
In regard to the popular album he launched, Davido was able to visit so many states like; Los Angeles, Houston, Dallas, Chicago, Boston, and lots more.
Davido Endorsements Deal
If we'll start writing about his brand ambassadorship, we'll cover a lot of contents. Davido is a brand ambassador to many multi-million dollar companies such as Pepsi, Mtn, Travelbeta, AXE, etc..
On April 6, 2012, Nigerian Entertainment Today reported Davido had signed a ₦30 million endorsement deal with MTN. The deal unveiled him as the face of MTN Pulse, a marketing campaign aimed at Nigerian youth.
On October 24, 2013, Pulse Nigeria reported Guinness Nigeria had signed Davido for an endorsement deal.
He signed an endorsement deal with Infinix Mobile, a Hong Kong-based smartphone manufacturer, on May 9, 2018.
In June 2021, Davido Partners With Martell Nigeria, Signs $5 Million (2 Billion Naira) Endorsement Deal. On Martell's official Twitter page, they shared a video of Davido in an advertisement. Martell mentioned,
For Martell, a Standout Swift is someone who challenges convention & inspires others. After more than a decade of ground-breaking music & pushing Afrobeats beyond borders, that's exactly what @davido portrays, making him Martell's newest Standout Swift.
Davido's Lifestyle
Davido, who has a net worth of more than $25 million, is known for his lavish lifestyle. He is constantly bragging about his flashy and expensive possessions.
Davido's Instagram accounts once published a photo of his family's private plane on social media, which drew a lot of praise and criticism from fans and critics alike.
He wrote on Twitter "Bought already, it not soup": It's Hard Work and Ambition!  Many congratulated him and many talked back at Him saying.
Because of How Rich Davido is, he once bought Rolex watches for his two daughters at the rate of $80,000 each, bringing the total to 64 Million Naira.
He wrote on Instagram THE PANDEMIC COULD'NT STOP ME. ROLLY GANG !#30BG4LThanks@davido!
Studio Albums and EPs of Davido
Omo Baba Olowo (2012)
Son of Mercy (2016)
A Good Time (2019)
A Better Time (2020)
Frequently Asked Questions About Davido
1.What is Davido's real name on Instagram?
You can simply follow Davido on his Instagram account @davido. It's so simple, unlike other celebrities that'll have other attached words.
2.What is Davido's Height?
Davido's height is 168cm (5ft 6in).
3.Where His musical Career Began
In His biography earlier on, he started buying musical instruments when he was at Georgia InOakwood University
4.Is Davido a billionaire?
Yes, Davido is a billionaire in naira currency, but not in dollars. According to his net worth, he is worth N10, 262,500,000.00
5.Who has more fans wizkid or Davido?
Right from time, a lot of arguments and debates about Davido And Wizkid have been going on, regarding who's more talented, richer, and more influential? He has more fans than wizkid, based on the current statistic in 2021,
(On Facebook, Davido has  4.2 million followers, while Wizkid has 5.9 million followers,
On Instagram, Davido has 20.5 million followers while Wizkid has 12.3 million followers,
On Youtube, Davido has 2.54 million subscribers while Wizkid has 1.82 million Subscribers,
and on Twitter, Davido has 9.5 million followers while Wizkid has 8.6 million followers.)
Can you See?, the difference is clear. Statistically, Davido has more fans than Wizkid.
Currently in Nigeria, Davido is the most followed person on Instagram .
6.Is Davido Yoruba or Igbo?
If you've been asking questions like; what tribe is Davido or what is Davido's state of Orgin? The answer is that, Davido is of Yoruba descent, he hails from Osun State, Nigeria
7.How old is Chioma Davido?
Chioma Avril Rowland is also known as Chioma Davido was born May 1, 1995
8.Who is the father of Davido?
Davido's Father's Father's name is Adedeji Adeleke.
9.Who is the richest between Wizkid and Davido?
According to their official net worths, Davido's net worth is estimated to be $70 million, while Wizkid's net worth is $63 million.
10.Who is Davido dating?
Davido is dating Chioma Avril popularly known as chioma the chef.
11.Davido's Children: How Many Kids does He Have?
Davido has 3 children form three different mothers. The names of the children are; Aurora Imade Adeleke, Hailey Veronica Adeleke, David Adedeji Adeleke Jr.
12.Does Davido Have a Son?
On the 20th of October 2019, Chioma gave birth to Davido's first son.
13.How Old is Davido?
As of 2021, Davido is 29 years old, as he was born on the 21st of November, 1992.
14.Is Davido the only son of his father?
Davido is his father's second born and son
15.What is Davido's Website
You can Visit Davido's Official website @ https://www.iamdavido.com/
16.What is Davido's Fathers Net worth?
According to Forbes, Adedeji Tajudeen Adeleke, also known as Deji Adeleke, is a billionaire and business titan who is the father of the popular musician, Davido, with a net worth of $700 million (N254,450,000,000 or N254. 4 billion).
17.What did Davido study at University?
David Adeleke Also known as Davido, a Nigerian singer, graduated from Babcock University with a degree in Business Administration. When he was in the University, He was the Most Popular Student as at that time.
18.How can I get in touch with Davido?
GENERAL
Email: vannesa.amadi@va-pr.co.uk
PRESS
Email: taponeswa.mavunga@sonymusic.com
19.Is Davido in Good Terms with his Baby Mamas?
Davido is one artist that loves his music career so much, but not as much as he loves and cherish his family. Davido apart from the little fight he had with Sophia Momodu, he tries every means to maintain peace with his baby mamas.
List of awards and Nominations received by Davido
This are the list of Davido's awards and Nominations that he received;
1.Soul Train Awards
In 2014, Davido for "Aye" was nominated for the award "Best International Performance".
2.The Future Africa Awards
Also, in the 2014, Davido was Nominated for the ward "African Young person of the Year "
3.Kora Awards
The first award Davido won was the "Kora Awards" titled "Best Newcomer Award". In 2014.
4.BET Awards
The second award Davido won was the BET Awards, titled "Best International Act Africa" in 2014.
5.Ben Tv Awards 2014
In the Ben Tv's awards, Davido was Nominated as the best male artist. In that same year he was nominated for the best collaboration from the song "Daddy" sang by Reminisce ft Davido.
Moreover, he was nominated for the best "international collaboration" for the song "Number One" Remix – Diamond platnumz featuring Davido and finally Davido's song "Aye" won the "Music Video of the Year"
6.Dynamix All Youth
Davido won the award for the "promising youth Artistle" and "Back when " became the song of the Year.
7.MOBO Awards
Davido was nominated for the "Best African act" in 2014.
8.MTV Europe Music Awards
In the year 2014, he was also nominated for the "Best African Act".
9.African Muzik Magazine Awards
2014 was actually a flourishing year for Davido, because he was nominated and won so many awards. He won an award for two things which are "Best Male West Africa " and "Artist of the Year".
Also the following songs were nominated for the following awards.
"skelewu' – song of the year and Best Dance in a Video
"Number One Remix"- song of the year and best collabo
10.MTV Africa Music Awards
He was able to win an award for the "best male" and "artist of the year". Also he was nominated for the following songs..
"Number One" (Remix)- (Diamond featuring Davido) as Best collaboration and
"Skelewu" – as the song of the year.
11.World Music Awards
In 2014, he conquered by winning an award as the "World's best male artist". And he was nominated for the "world's best live act "and "world best Entertainer of the Year".
12.Channel O music Video Awards 2012-2014
In his song "Aye", he sang in 2012, Davido was nominated for the following award.
Most Gifted Male
Most Gifted Afropop
Most Gifted Video
Most Gifted West.
In 2012, he won the award for Most Gifted Newcomer Video of the Year"-Dami Duro.
Also, he was nominated for "Most Gifted Pop Video" for the song "Gobe" he sang in 2012.
And he was nominated for most gifted Dance for the song skelewu, he sang in 2014.
13.Nigeria Music Video Awards (NWVA)- 2012-2014
In 2014 he was nominated for the following award, "Video of the year", "Indigenous Concept", Best Use of Costumes and in that same year, he won an award for the Best Afro Pop Video, for the song "Ichelete() " )
Also, in 2012, he got an award for the "Best Video By A New Artiste (Live Beats Choice). "
In the year 2013, "All of you" was nominated for the "Best Dance  Hall/Hagge Video" and "Gobe' was nominated for the "Best Pop Extra Video".
14.4Syte TV Music Video Awards -2012-2014
In 2014, "Aye" was nominated for "Best African Video ", also in 2013,  "Gobe" and in 2012, "Dami Duro osezy" was nominated for Best African Video.
15.Ghana Music Awards- 2013-2014
Davido was nominated in 2013 and won an award as the "African Artiste of the Year "in 2014.
16.City People Entertainment Awards 2013-2014
In 2013, Davido was nominated as  the "Musician of the Year(Male)",  "Best Hip-Hop Artiste of the year" and "Gobe" as the "Most Popular song of the year".
Also, in 2014, the song "Aye" was nominated as the "Most Popular song of the year" and also the "Video of the Year". In that same year, the song "Daddy'- Reminisce featuring Davido was nominated as the "Best Hip-Hop Artiste of the Year".
17.The Headies 2012-2018
In the year 2012, the song "Dami duro " was nominated as the "Best Pop Single" and "Song of the Year". Also the song "Carolina" – (sauce kid featuring Davido), in that same year, Davido was awarded "Next Rated".
2013-  "Omo baba olowo" was nominated as the album of the year and was awarded  the "Best R&B/Pop Album.
Also "Gobe"  was nominated as the Best Pop Single in 2013.
2014-  "Aye" song was nominated as the Best Pop Single & was awarded as the Song of the year.
In 2018, Davido won two awards, which are "Hip Hop World Revelation" and the "Artiste of the year".2018-  He still won the Artiste of the Year and his song "IF'  was awarded as the "Song of the year" and  "Best Pop Single". "IF" was also nominated for the Headlines Viewer's Choice.
The song "Like Dat " was nominated as the best Music Video.
18.Nigeria Entertainment Awards 2012-2014
2012-  Davido won the award for the following songs listed here..
"Carolina'- Best Callabo of the Year
"Himself "- Best New Act of the Year.
Dami duro- Hottest Single of the Year.
He also won the "Best Pop/ R&B Artiste of the Year".
2013-  the album titled "O B O (Omo Baba Olowo)", was nominated as the "Best Album of the Year" and he also won the "Best Pop/R&B Artiste of the Year".
2014- He won the following  awards for the songs listed below:
"Gallardo"(RunTown featuring Davido) and "Mofe Lowo Ju Daddy Mi"(Reminisce featuring Davido) as "Best collaboration'.
"Aye"- Hosttest Single of the Year.
He won an award as the "Best Male Artist of the Year" and  the song "Skelewu" was nominated as the "Best Music Video of the Year(Artist & Director)."
19.Nickelodeon Kids' Choice Awards
In 2018,  Davido was nominated as the "Favorite African Star".
ALSO, READ Simi Net Worth, Age, and biography